ARBORETUM
It is with great pride that we carry the distinction of being officially recognized and certified as an arboretum by the Morton Registry of Arboreta, the national organization for certification. Only select organizations and businesses in Connecticut and across the nation are awarded this honor, based on an extraordinary collection of special, mature trees adorning our landscape. We offer walking tours where you can appreciate our beautiful property and trees in all their splendor.
The Arboretum Walking Tour
Many of our trees have been tagged with botanical information signage. We've identified the trees with sequential numbers, and you can follow the tree specimens throughout by using maps available at our front office or by downloading the app with link here. The tour begins with a gorgeous flowering dogwood (cornus florida) as you first enter Oak Lawn. You will enjoy not only the beautiful trees as you walk the grounds but can view plots of prominent figures from Fairfield and within surrounding communities. You may also enjoy perusing our recently-constructed Veterans Memorial Plaza.
Start Your Self-Guided Tree Tour Now
Download Tree Tour Brochure Here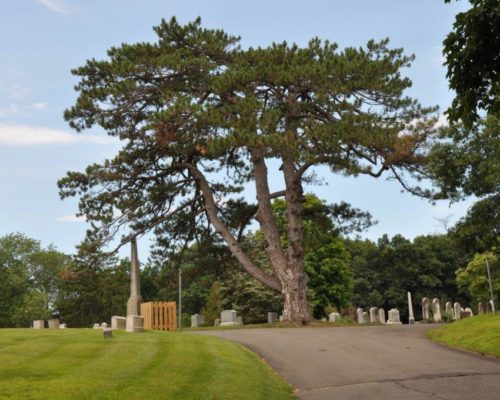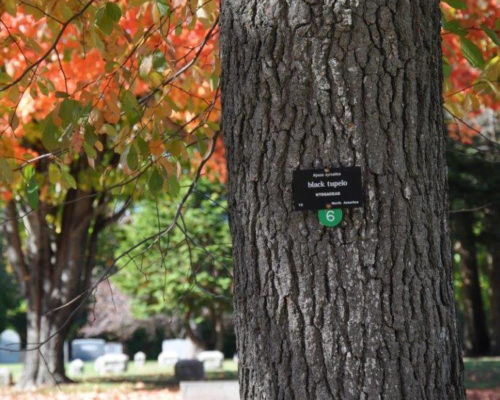 CONTACT US
Call 203.259.0458 to schedule a tour of the stunning grounds and to learn more about our many burial options. Contact Us By Email, We're Here to Help.
Phone: 203.259.0458
Fax: 203.256.0794
Office Hours
Monday – Friday: 8am to 3pm
Saturday: By Appointment Only
Sunday: Closed
Visitation Hours
Winter Hours   October 1 – April 30: 7am to 5pm
Summer Hours   May 1 – September 30: 7am to 7pm
Cemetery Map