The Knoll at Oak Lawn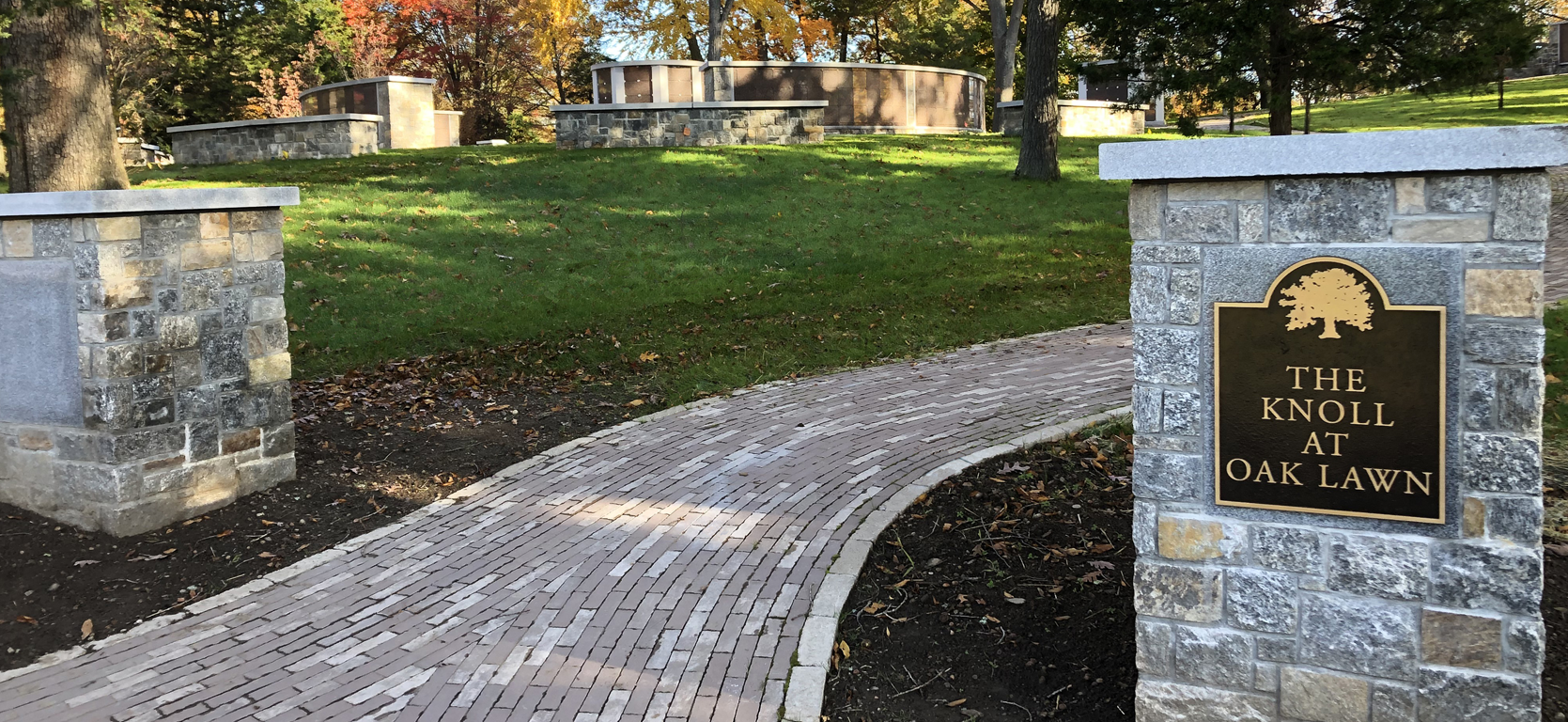 The Knoll at Oak Lawn is truly a one-of-a-kind cremation garden—unmatched by any cemetery in the tri-state area. Words cannot adequately convey its natural beauty.
In 2017, Oak Lawn decided to develop a unique offering to serve the growing preference for cremations. We wanted the development to mirror traditional New England values of nature and simplicity, while accentuating some of the rolling topography of our park-like grounds.
In November of 2019, The Knoll at Oak Lawn was completed. The development offers multiple options for cremation interments. Newly planted specimens of native plants and trees embrace this very special site.
Traditional in-ground cremation sites, with both flush and upright markers, define the perimeter of The Knoll. Embracing the walkways are granite-topped stone walls. Imbedded in the walls are evenly spaced granite plaques marking in-ground interments sites.
The interior of the development contains a lower Courtyard with above-ground granite niches for both single and double inurnments.
Leaving the Courtyard, visitors can follow the handcrafted paver path leading up to the Summit. Along the way, a lovely Terrace includes a free-standing columbarium offering both single and companion niches. Arriving at the Summit, there are additional companion niches and stone walls with in-ground, granite-faced interment sites. The Summit offers commanding views of our grounds including our newly developed native park.
For a private tour of The Knoll at Oak Lawn, please call 203-259-0458 or schedule using the form below.
For guidance on general cost information, click here.
Contact Us
Call 203.259.0458 to schedule a tour of the stunning grounds and to learn more about our many burial options. Contact us by email, we're here to help.
Phone: 203.259.0458
Fax: 203.256.0794
Office Hours
Monday – Friday: 9am to 3pm
Saturday: By Appointment Only
Sunday: Closed
Memorial Day – Labor Day
Office closes at 1pm on Fridays
Cemetery Visitation Hours
Winter Hours   October 1 – April 30: 7am to 5pm
Summer Hours   May 1 – September 30: 7am to 7pm
Cemetery Map